english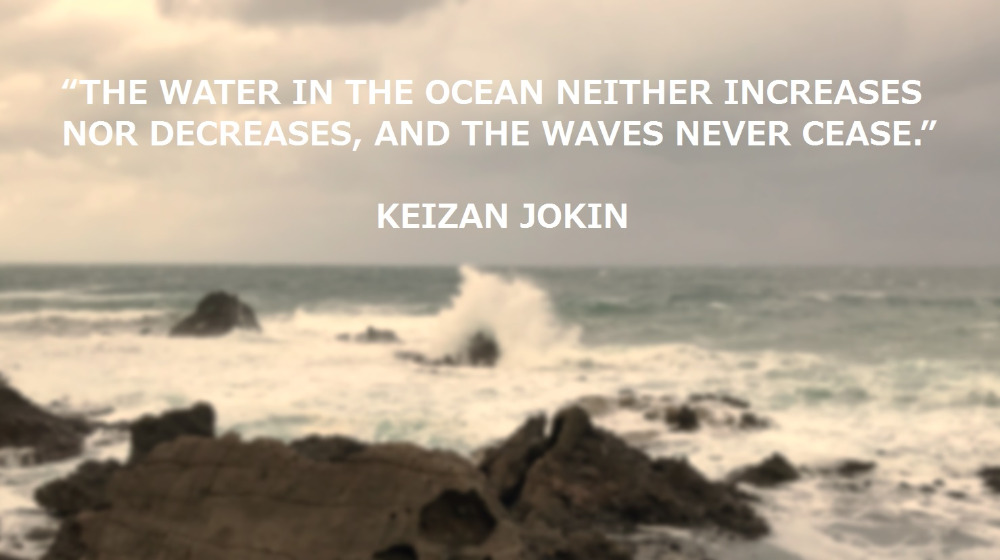 ABOUT SOJIJI SOIN

The head temple Sojiji was founded about seven hundred years ago in 1321 by Zen Master Keizan Jokin. In the summer of 1322, the Japanese Emperor Godaigo issued an imperial edict to bestow upon Sojiji the honor of "Chokuganjo" (a temple built at the wishes of the Emperor). From then on, the temple became increasingly prosperous, growing to more than 16,000 subordinate temples all over Japan. Most of the temple buildings however, were unfortunately destroyed by a fire on April 13th 1898. On that occasion the temple was transferred to Tsurumi, Yokohama City. New buildings were then constructed one after another in the fire-ravaged area to revive the temple as a "Sobyo" (ancestral mausoleum). Sojiji Soin (Sojiji ancestor temple) still today attracts many visitors and trainee monks.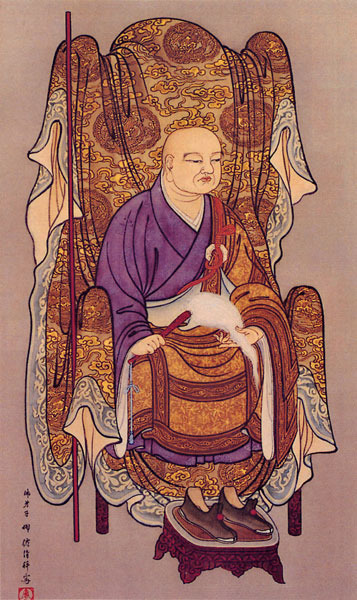 VISIT SOIN AND EXPERIENCE THE SPIRIT OF ZEN!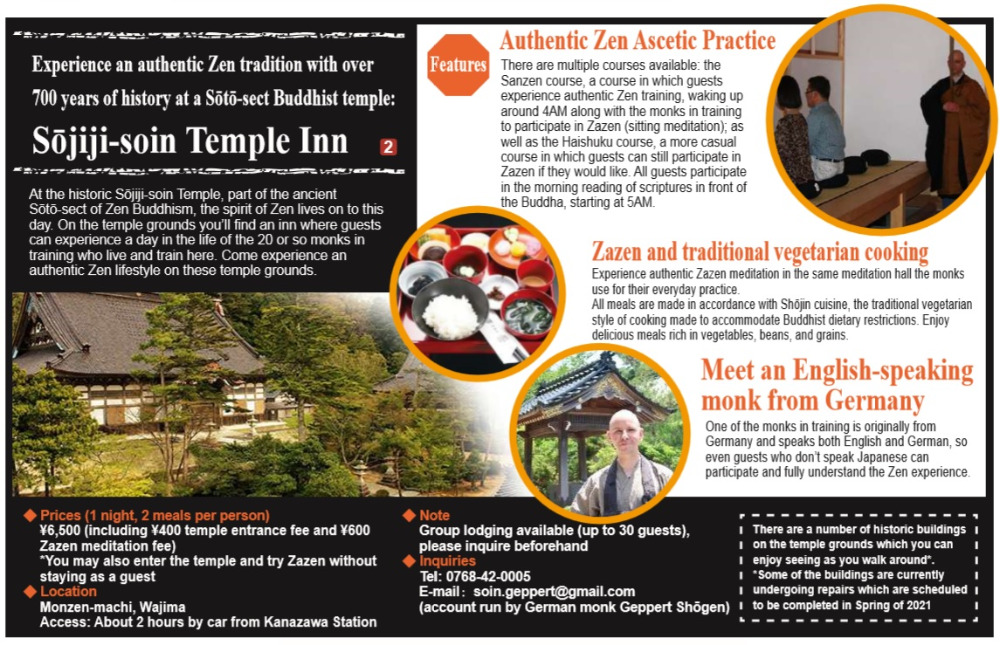 TEMPLE LODGING AT SOJIJI SOIN
Sojiji Soin provides visiting pilgrims and tourists with overnight accommodation within its grounds. Open to both practitioners and non-practitioners alike, we offer travelers an excellent chance to experience the simple, austere lifestyle of Buddhist monks, while staying at a functioning Zen temple. In addition, visitors are invited to watch or participate in activities such as morning prayers or meditation.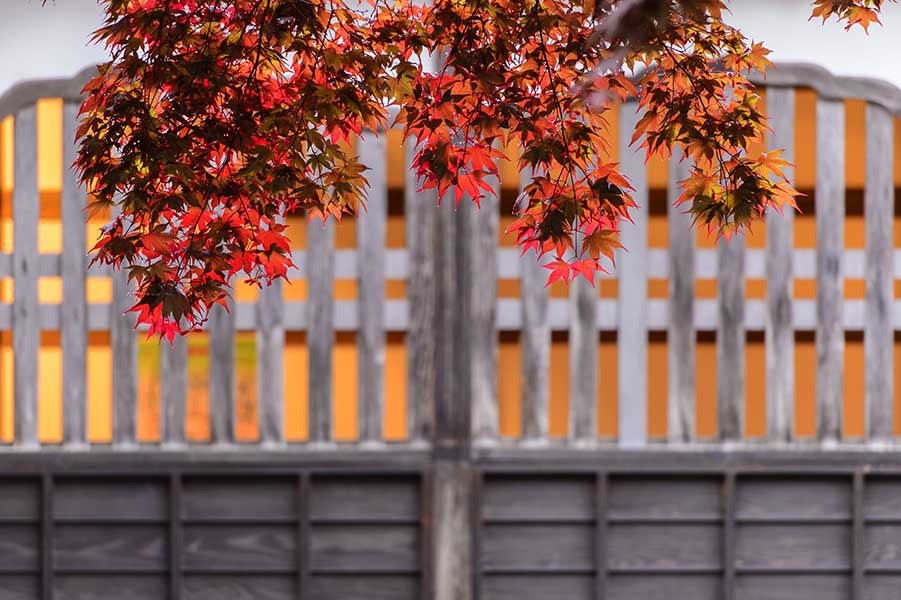 A night at the temple costs ¥6,500 per person including dinner and breakfast. We provide our guests with simple, traditional Japanese-style rooms featuring tatami mat floors and sliding doors (fusuma). Bedding is provided in the form of futon, which are spread out on the tatami floor during the night. Gas heaters are provided for warmth in winter.
One of the highlights of staying at Sojiji Soin are the vegetarian meals (shojin ryori), which developed around the Buddhist moral precepts that prohibit taking the lives of other creatures. As such, shojin ryori abstains from using meat or fish and substitutes it with protein-rich plant products such as tofu and konyaku (devils tongue jelly).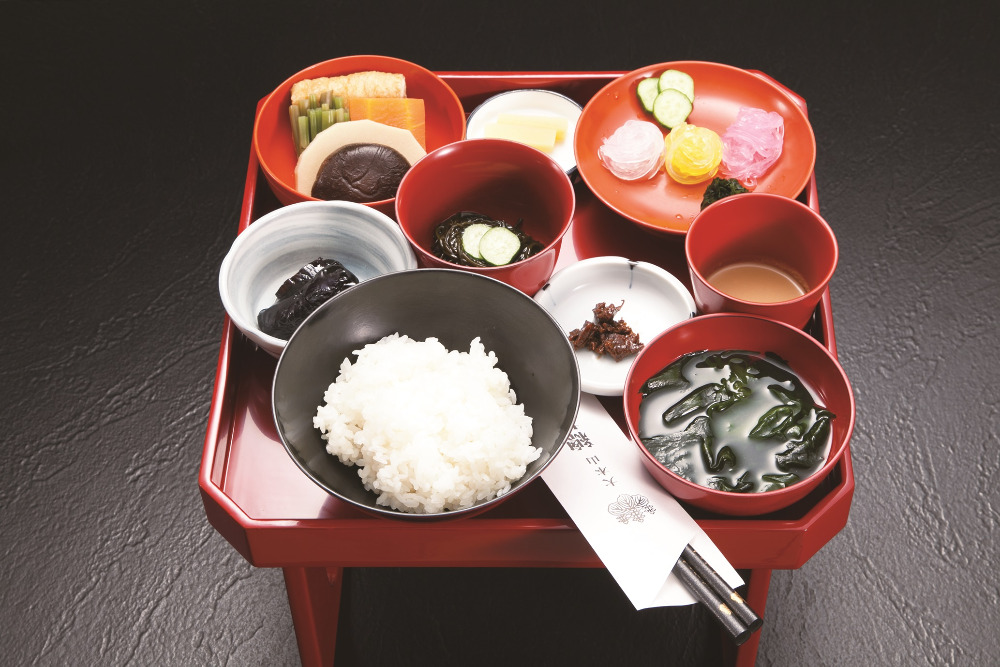 We usually invite our guests to participate in morning prayers which typically start early around 5AM and last for about 60 minutes.
Entrance Fee
¥500
Guided Zen Meditation (including entrance fee)
¥1,000
Vegetarian meal (basic)
Vegetarian meal (advance)
¥3,000
¥4,000
【Reservation is suspended】
Temple Lodging (1 person, 1 night, including dinner and breakfast)
¥7,000
【Reservation is suspended】
For more information or booking please contact:
SOJIJI SOIN
〒927-2156 Monzen 1-18, Monzen-machi, Wajima-shi, Ishikawa-ken
TEL 0768-42-0005 FAX 0768-42-1002
MAIL soin.geppert@gmail.com
All bookings should be made in advance!
WHAT IS SOTO ZEN...???

For more information about Soto Zen Buddhism or meditation, please click below